video
politics, drugs, japan, congo, china. a documentary on police and a tv series on video games.
I make documentaries for HBO, VICE TV, and Showtime, and online. Most of my work focuses on culture.
To me, 'culture' means anything that keeps you on your couch, or makes you want to get up off it. So: everything.
guns, drugs, wrestling, videogames, police brutality, elections. Everything.
Here are some of my favorite segments below. You can see a YouTube playlist with most of my segments here.
DOCUMENTARY
voodoo wrestling
Catch Fétiche — loosely translated, "voodoo wrestling" — is a uniquely Congolese fighting style: a combination of traditional African wrestling moves, old religious practices, and one man's obsession with Hulk Hogan.
I went to Congo to learn more about it.
when murder isn't murder
LaKeith Smith was given 65 years the murder of his childhood friend. Police agree that he didn't pull the trigger. He was 15.
A full television documentary on justice in Alabama.
ANALYSIS
take a knee
For police departments, these kneeling images were a great organic source of positive PR. But not everyone is buying it.
This one was part of a larger package that won a 2020 News Emmy.
update: the officer I was questioning in this piece was later implicated in an (alleged) scheme to cover up sexual assault.
copyright cops
We've become accustomed to seeing members of the public use their cell phones to film police officers on duty. Now, we're starting to see cops pull out theirs, but it isn't to record.
They're playing copyrighted music in an apparent attempt to exploit copyright filters.
update: they're doing it again, this time with Toy Story.
what's with the kanji tattoo, buddy?
If you've ever wondered why white supremacists seem to be really into anime: here's a crash course. I wish I didn't have to make this.
INTERNATIONAL
being black (and funny) in Japan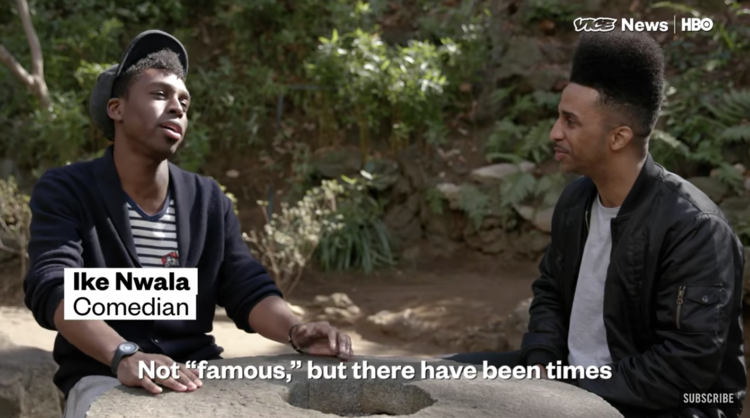 When I lived in Tokyo, I happened to meet this dude at a party cracking jokes. Turned out he's actually funny for a living – and he does it in Japanese. So when I made a trip back to Japan, I knew I had to get him on camera to tell his story.
Meet Ike Nwala, a Nigerian-American comedian who's on Japanese TV every day.
the best (fake) sneakers money can buy
If you want a legit pair of the new Off-White Converse sneakers, that'll run you $1500. You can get a great knockoff version for just $80 – but most Americans have no idea where these fake shoes actually come from.
We went to Putian, China, home to a thriving underground counterfeit shoe industry – and met the guy who's been supplying hypebeasts with high quality fakes via a Reddit connection.
Or, read this article we wrote about how his empire almost fell apart here.
ENTERTAINMENT
i took a tidying course with Marie Kondo herself
I went through a training camp, got (gently) scolded by Marie Kondo for not thanking my clothes, and helped a mom prepare for her new life. What a time to be alive.
Kenan Thompson on failure, "all that", and being black on SNL
I've been watching Kenan Thompson since All That. So it was pretty cool to talk to him about his career thus far – his feelings of self-doubt, whether or not it's time to move on from SNL, and what it would take to revive his infamous "What Up With That" sketch.
Make America Nazi-Free Again
Bethesda's Wolfenstein 2: The New Colossus is set in 1961, in an alternate history where the Nazis won, have colonized America, and are letting the KKK run wild.
But when the company started releasing trailers for the game with the slogans like "Make America Nazi-Free Again" - clear references to the Trump administration - some gamers got offended.
Santa Claus is a Black Man
If you're from New Orleans, you know the truth.
Santa Claus is real, but he doesn't live at the North Pole. He's 75 years old, and he lives right over down in the 7th Ward.
Also, he's black.